Shift Course: Create Your Fall Fertilizer Plan
Resources and tools available to monitor market changes and fertilizer prices.
As we head into the fall, harvest and fertilizer applications are top of mind. With high input costs, producers really feel the impact and are looking at all their options. Just like the grain market, fertilizer prices fluctuate based on global factors.
During a recent ADM Fertilizer call for producers, Jake Niederer, Director of ADM Farm Direct Fertilizer, talked about fertilizer movement out of China, potential inflation implications, and the general lack of inventory that's being felt throughout the global market.
In addition to hosting monthly calls to provide an analysis of the grain and fertilizer markets, ADM recently introduced Shift, a new e-learning course, that helps producers think through difficult farm management decisions. One section of the course focuses exclusively on developing a strategy for buying and storing fertilizer. Below are key takeaways from this section:
Watch the Market 
ADM has a team that closely watches the global fertilizer market daily, and it provides timely information to help producers stay on top of market developments.
According to Niederer, this year feels like it's setting up similar to a year ago when June and July offered some of the lowest prices of the year. As a result, he suggests securing 25-50% of urea and 35-50% of UAN for 2023. He also advises producers to stay aware of the energy complex impacting the market, as volatility in those markets can affect nitrogen fertilizer markets as well. Lastly, he recommends pricing grain sales at the same time as fertilizer purchases to lock in margin.
For phosphates and potash, Niederer notes there is still time to buy for this fall's needs, but he doesn't recommend waiting until it's needed in November.
For sulfate, producers probably don't need to buy immediately, but there's an opportunity now to lock in lower prices than they were a year ago.
Calculate your Needs
While the push is on, especially right now, to order your fertilizer, take an hour to better understand your specific needs and create a customized budget.
ADM offers a free calculator that helps forecast fertilizer expenses. The tool allows producers to compare prices from both ADM and local retailers, as well as costs associated with storing bulk fertilizer.
Once producers have calculated their costs, they can manage their crop nutrient inputs in the ADM Fertilizer Portal to request quotes, submit orders, access contracts and release numbers, view their transaction history, and process invoices.
Gain Fertilizer Independence
A complete picture of your fertilizer needs and budget puts you in a position to make more informed decisions and necessary changes.
How often do you evaluate fertilizer pricing and your supplier? Many growers tell us they evaluate these items on a quarterly or semi-annual basis. Given supply shortages, distribution delays, and labor scarcity, it might be a good idea to re-evaluate your approach on a monthly or quarterly basis this year.
Furthermore, buying in bulk might be another consideration that can offer long-term cost and time savings, as well as more control of your application timeline. Gaining "fertilizer inpendence" and removing external factors, such as local dealer schedule backups or limited equipment availability, can make a difference in your production and staffing schedules.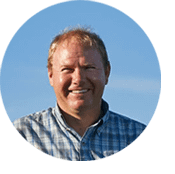 Buying in bulk has been beneficial for Matt Imholte, a producer based in Clear Lake, Minnesota, who uses potash, urea, and AMS. ADM mixes the formulas and Imholte picks up his fertilizer order when he drops off his grain. Taking care of both at the same time has been an efficient use of his time and trucks.
Other producers work with ADM to drop off orders directly at their farms.
"With our big transportation system and market access, ADM helps growers forward-price up to 18 months out and coordinate deliveries," says Niederer. "This can potentially lock in huge savings and push a producer's bottom line into the black. We take a very small mark-up compared with local dealers and pass along savings that can average $25 to $30 a ton. We're trying to help growers widen their margins."
Shore Up on Storage Options
While not every producer has extra space available on their land, finding a way to create it can be useful.
On-site storage can maximize long-term savings and offset other expenses.
If you have a hoop building or hard-floor shed, you may already be purchasing and storing fertilizer in bulk. If you're looking to invest in new storage, ADM has partnerships with contractors and storage providers who can offer low- or no-interest financing.
Adam Granzow, a producer in McCallsburg, Iowa, worked with ADM to purchase a Meridian bin that holds six semi-loads of fertilizer. ADM mixes and delivers MAP, potash and AMS, which are unloaded to Granzow's auger and then into his Meridian bin. This process has eliminated previous logistical issues for Granzow.
---
Learn More
ADM offers several resources to make your fertilizer planning an easier process. ADM's Shift course not only covers fertilizer, but many facets of farm business management. Learn more at ADMadvantage.com/shift.
ADM is providing this communication for informational purposes, and it is not a solicitation or offer to purchase or sell commodities. The sources for the information in this communication are believed to be reliable, but ADM does not warrant the accuracy of the information. The information in this communication is subject to change without notice. If applicable, any information and/or recommendations in this communication do not take into account any particular individual's or company's objectives or needs, which should be considered before engaging in any commodity transactions based on these recommendations. ADM or its affiliates may hold or take positions for their own accounts that are different from the positions recommended in this communication.