Fertilizer Options
POLY4™ Crop Nutrition
POLY4 is a multi-nutrient, low-chloride fertilizer that offers four essential nutrients in one product — potassium, sulfur, magnesium, and calcium. This balanced nutrition, backed up by years of agronomic data, will help increase yields, improve crop quality, and enhance soil health. From uniform granule packed with nutrients to uniform nutrient distribution on the field, POLY4 offers solutions and supports sustainable farming practices.
Product Benefits
• Season-long release of nutrients
• Source of sulfate-sulfur
• Fully soluble
• Improved fertilizer use efficiency
• Blends and spreads effectively
• Granulated with consistent particle size
Download Product Sheets


POLY4 is a registered product of Anglo American, whose mission is to help farmers around the world increase crop production by improving their efficiency, effectiveness, flexibility, and sustainability. In partnership with Anglo American Crop Nutrients, ADM will be an exclusive distributor of this crop nutrition product in North America.
Characteristics
Beyond the Nutrient Value
Discover what makes POLY4 an exciting, game-changing player in the fertilizer industry. This product:
Works on both broad-acre and high-value crops
Provides gradual and sustained release of nutrients from application through to harvest
Improves nutrient uptake of nitrogen and phosphorus
Is ideal for chloride-sensitive crops
Preserves and enhances soil nutrient legacy
Has no negative interaction with other fertilizers
Supports crop health and improves disease resilience
Is suited to spreader application with at least 100 feet (up to 120 feet) uniformity
Learn more about POLY4 and its benefits here.
Download Sales Sheets
The Cornerstones Video
A Game-changing Product in North America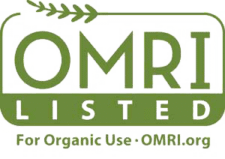 Trials
Research Insights
POLY4's balanced nutrition, backed by years of global and North American agronomic data, has been shown to boost yields and crop quality, and enhance structure and nutrient legacy of soils. These reports highlight field studies conducted by third-party, independent researchers.


Corn: 3.9 bu/ac POLY4 program yield advantage over MOP + AMS
POLY4 demonstrates a big yield benefit as a replacement for AMS.
View trial report

Soybean: Up to 3.0 bu/ac POLY4 program yield advantage over MOP
The multi-nutrient profile of POLY4 drives higher yields in soybeans.
View trial report


Potato: 13 CWT/ac increased yield with POLY4 over MOP-K+Mg+S
POLY4 improves yield and quality of potatoes, including dry matter content.
View trial report


Cotton: 144 lbs lint/ac increase with POLY4 over MOP + gypsum + kieserite
Sustained nutrient release boosts yield in cotton.
View trial report
View more crop studies:
Growing Corn with POLY4 in North America
Growing Potatoes with POLY4 in North America
Sustainability
Sustainable crop nutrition empowered by nature.
With no chemical processing and low carbon footprint during manufacturing, POLY4 helps produce more food, more sustainably. The use of POLY4 will add value to the local environment and bring us a step closer to a more sustainable global food system. POLY4 offers these sustainability benefits and more:
High fertilizer use efficiency and nutrient uptake
Improved soil health and resistance to erosion
pH neutral
Low in chloride with low salt index
Suitable for organic farming
Learn more about POLY4's sustainability profile by visiting poly4.com and listening to this "Table Talk" podcast.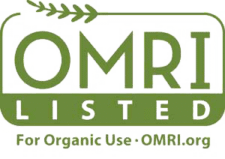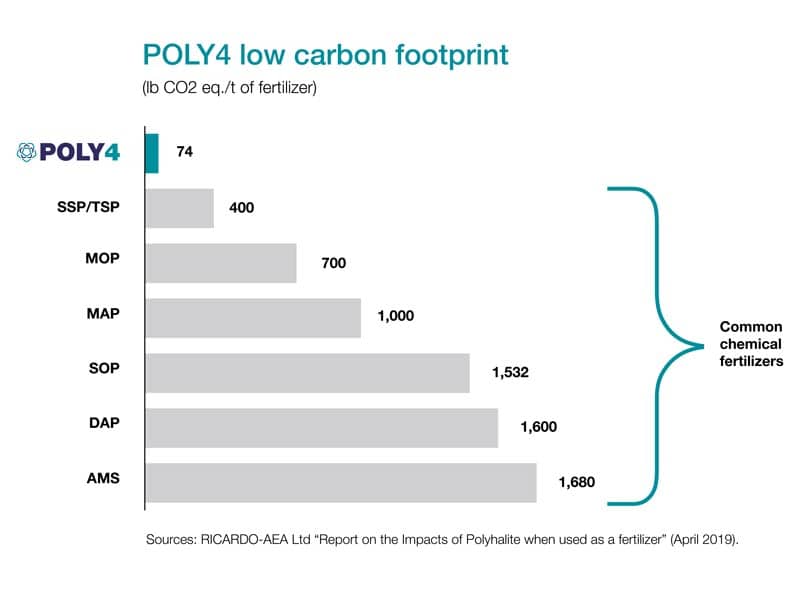 POLY4 Production
The Anglo American Woodsmith Project is setting a new standard for sustainable mining.
Anglo American's Woodsmith Project is a deep mine and associated transport, processing, and shipping infrastructure development under construction in North Yorkshire, England, UK.
It will extract polyhalite to produce the nutrient-rich POLY4. Bringing this world-class mine to fruition will help meet the world's ever-increasing need for food from ever-decreasing areas of available land, with a highly efficient, effective, and low-carbon fertilizer.
Learn more about the Woodsmith Project here.
Anglo American Wordsmith Project Overview