Active Contracts:
ADM Offer Management
Take initiative to make online grain offers and fertilizer bids with this exciting online tool from ADM that lets you manage them at any time from your smartphone, tablet or computer. Offer Management is available to all ADM account holders, enabling you to monitor current, past and future activity.
ADM products and services vary by location.
How It Works
Setting up your ADM Offer Management account is fast, secure and easy:
Go to ADMfarmview.com.
Click on the "Tools" page from the menu.
Under the ADM Offer Management drop-down, select your preferred location. (Not all locations offer ADM Offer Management.)
If you don't have an account, click on the link to request a username/password.
Complete the form and submit it.
With the Offer Management app, you submit a grain offer or fertilizer bid directly to ADM whenever you want. Get notifications by email or text—your choice. Raise or lower your price objectives at any time, and even maintain several offers or bids at once. You can access the portal from a smartphone, tablet or computer, making it easier than ever to access information anytime, anywhere.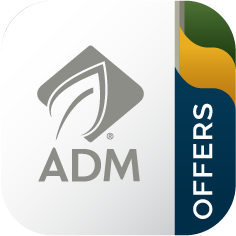 Benefits
Make firm grain offers and fertilizer bids in seconds
Allow your price targets to work in the market 24 hours a day, 7 days a week
Set your communication preferences via email or text
Access information seamlessly on any internet-connected device
View your current and expired offers or bids any time
Let's talk.
Please contact me so we can have a conversation about this grain contract.