How to Farm with a Higher Business IQ
Go for the small wins to make a big difference.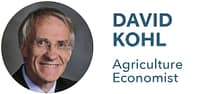 During the "commodity super-cycle" between 2007 and 2012, it wasn't unusual for net farm income to top $125,000. But FINBIN statistics show median farm income around $35,000 in 2017. Some would say we're in a "winter of agriculture"—meaning a tougher challenge for some operations. But noted ag economist Dr. David Kohl says there are many new opportunities for farmers with a higher business IQ.
We talked with Dr. Kohl at the Farm Futures Business Summit, and you can listen to that conversation in our podcast, In the Driver's Seat: Farm with a Higher Business IQ:
Here are the highlights of our interview:
Land values are saving the day: We're in a period of reset. After eras of strong prices, we've had eras of low margin and extreme volatility. We haven't seen a crash like in the 1980s because land values have maintained. Some producers have been able to refinance their operating losses and spread them out over long-term debt. Others are making incremental adjustments and are becoming better managers. This is going to be a period of base hits—small accomplishments, rather than home runs."
Why some farms are doing okay:
"It's called the 5% rule. They're 5% better in a lot of little areas, especially capital efficiency. They know how to get the most out of their fixed assets—land, equipment, and human labor. They do 5 to 10 bushels an acre better in yield and keep costs under control. They're better marketers, getting those few extra cents per bushel."
Keep close tabs on finances:
"Look at your finances monthly or quarterly, not once a year. We own a creamery, and one of our best business tools is projected cash flow. We do monthly and quarterly variance analyses, and we meet with our lender quarterly to get another set of eyes on the books. Just like a coach, farmers with a high business IQ have assistant coaches—their advisory team."
Sharing equipment and expertise:
"The term 'interdependence' will be very applicable in the 2020s and 2030s. Farmers will need to collaborate and create alliances. I talked with a group of farmers in Nebraska where one had marketing expertise and worked with an advisor, another was a good mechanic, and one of the wives was onboard as a CEO who did the planning. By sharing, they were able to lower their fixed costs as much as 20% to 30%."
Spring follows winter: "It's going to be a decade of disruption with niche markets driven by a very urban population. The astute entrepreneur—the new farmer—will have opportunities. You could acquire assets 50 to 60 cents on the dollar, and there are a lot of educational and finance programs out there for young farmers who want to become better managers. Everybody thinks, 'oh we're in the [economic] winter of agriculture.' Well, the winter of agriculture creates the spring of agriculture. But it requires a producer to look at the big picture and bring it down to their specific opportunities."
Developing higher business IQ: ADM can help boost your business IQ with two strategies in particular:
ADM Farm Direct Fertilizer

lets you lock in a favorable price for N, P, and K, and buy in bulk directly from ADM. Producers have saved upwards of $30 per ton and paid off their equipment and storage investment in just two years. We've arranged for low-interest financing to help you get started or we can refer you to an area applicator. In some cases, farmers share equipment and help each other with spreading.
Forward contracts with floors and upside features: April, May, and June grain markets are usually on your side. A few well-designed contracts can help you capture that typical advantage while still letting you participate in market upside.
Let us be your assistant coach when it comes to managing risk. While you prepare for the spring of agriculture to return, these strategies could make all the difference.
Past performance is not indicative of future results.
ADM is providing this communication for informational purposes, and it is not a solicitation or offer to purchase or sell commodities. The recommendations in this communication do not take into account any particular individual's or company's objectives or needs, which should be considered before engaging in any commodity transactions based on these recommendations. The sources for the information and recommendations in this communication are believed to be reliable, but ADM does not warrant or guarantee the accuracy of the information or recommendations. ADM or its affiliates may hold or take positions for their own accounts that are different from the positions recommended in this communication. The information and recommendations in this communication are subject to change without notice.