ADM AdvantageSM Expert
Grain marketing is just one part of the important work you do, but it requires constant attention. That's why ADM offers you the ADM Advantage Expert contract—a contract that puts your grain marketing in the hands of independent marketing experts. Our experts have a proven marketing track record, giving peace of mind and allowing you to spend your valuable time on other important tasks. You choose the expert, you set the basis, we handle the rest.
ADM products and services vary by location.
Expert Contracts:
How it Works
Here's how to put ADM Advantage Expert to work for you:
You choose the crop you want to sell, your delivery period and the marketing expert you​'d like to make the pricing decisions.
Your chosen marketing expert advises ADM to price futures on your behalf. ADM establishes the final Futures Reference Price on your contract based solely on their pricing decisions.
You set the basis at any point prior to grain delivery.
Your final cash price is equal to the ADM Advantage Expert Futures Reference Price +/- Basis – Service Fee.
Benefits
With grain experts working on your behalf, you have the freedom to focus on other things
Automatic execution minimizes stress and worry
You still maintain control to set the basis
It's a powerful diversification tool for your grain marketing portfolio
ADM Experts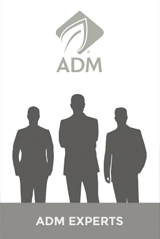 The ADM Experts are a team of experienced senior traders within Archer Daniels Midland Company. Each team member contributes to the trading and risk management decisions by:
• Leading ADM's export grain activities for corn, soybeans, sorghum, and all classes of wheat
• Sourcing and trading grain at ADM's largest interior grain terminal facilities
• Managing ADM's risk position for all futures and options positions in grain and oilseeds
Individually and together as one team, the ADM Experts apply their seasoned knowledge and experience in the marketplace to serve you.
Subject to Terms and Conditions in ADM-provided contract. See contract for details.
SaveSave
SaveSave
SaveSave
SaveSave
SaveSave
SaveSave
SaveSave
SaveSave
SaveSave
Contract Performance Charts
Our grain contract portfolio offers a wide range of choices, designed to help you meet your marketing goals.
See how our contracts have performed with just a few easy clicks.
Sign Up To Receive Weekly Performance Emails:
Let's Talk
Please contact me so we can have a conversation about this grain contract.
Contact Your ADM Grain Representative
From early crop-year planning until your money's in the bank, we pledge to be the best grain marketing strategists you can find. Ask for ideas anytime.
Enter your ZIP/Postal Code