Faces of Food: Gateway to the World
Located two hours south of some of the world's best soil, Habbe Farms isn't blessed with such productive ground. But its location near river terminals in St. Louis helps deliver a premium price for grain and a cheaper price for fertilizer.
Fifth-Generation Southern Illinois Producer Works Smarter to Succeed
Location is everything in real estate, and it certainly plays a significant role in farming as well. Located two hours south of some of the best soil in the world, Habbe Farms of Nashville, Illinois, isn't blessed with such productive ground. But its location near river terminals in St. Louis helps deliver a premium price for grain and a cheaper price for fertilizer.
"One advantage of our location in Southern Illinois is that our basis levels are extremely high compared to other areas of the country that have to ship long distances," explains R.H. Habbe IV. "We're 50 miles from one of the best harbors on the Mississippi River, which usually means some of the strongest basis levels anywhere in the Midwest."
Habbe is featured in the third episode of the new ADM video series Faces of Food. He's a fifth-generation farmer who's led the operation since he was a teenager. He's always on the lookout for ways to make his operation more efficient and profitable, and he does so while using techniques that protect his erodible land to preserve it for the sixth generation.

Hard work is no sweat
Habbe Farms is a hard-working operation, and R.H. finds ways to maximize his equipment and plan for efficiencies however he can. For example, when he hauls grain, he often picks up a load of fertilizer to bring back to the farm; and he double crops acres by planting soybeans after harvesting wheat in the same season.
"It's twice as much work to double crop a field, but doing so pays benefits," he says. "Sometimes double crop acres are the best for income because of our soils, which are highly variable for corn production. In addition, planting wheat helps keep our soil in place, preventing erosion."
R.H. says it's important to keep an open mind and always try new things to understand how they will affect the workload and productivity. "As you find out if they work or not, you continue with them or you go a different route."
Should anyone wonder why he works so hard, R.H. tells them, "I've never worked a day in my life." That's because, he says, "If you like what you do, then it's not really work, is it?"

Benefiting from technology
R.H. utilizes technology around the farm whenever it makes sense. Often, he turns to technology to allow him to be in two places at one time and reduce the need for additional labor.
GPS in the tractor has become standard, and he uses tools like sensors in bins to monitor grain quality, including moisture and other grade factors.
"If I am able to monitor my bins from my phone, then that cuts out the bottleneck of being short the actual labor that we need to do the farming operation," he explains. "And if having GPS in a tractor allows me to drive in conditions that I normally wouldn't be able to, it gives me a longer workday."
He also uses a complex system of multiple bins to fulfill grain delivery contracts that specify a certain quality. "To manage our grain storage, we've got it set up where each bin can be unloaded onto a specific conveyor. From there we can blend it to the quality that ADM looks for to get the best price," he explains.
Looking to the future, he says he's trying to build an operation around technology that will make it easier to manage for his son or daughter. "Hopefully, they won't have to work near as hard as what I did because of what I've implemented."

Like-minded business partners
R.H. also looks to his business partners to help make informed decisions for his operation.
"I got a few people who work with me over at ADM who will come out to the farm and help me work through stuff," he says.
ADM representative Don Bergschneider has worked with R.H. for years, which gives him an in-depth understanding of the farm's goals and capabilities.
"Don works for ADM, but in essence he's there to really help me," R.H. adds. "I trust him to give me the information that's going to do the best for my operation."
While Don provides guidance on R.H.'s grain marketing plans, he's also a friend and helps in times of need. "I know he's always just a phone call away," R.H concludes. "Sometimes he's even helped me with family stuff, so, it doesn't always have to be just grain marketing where he helps."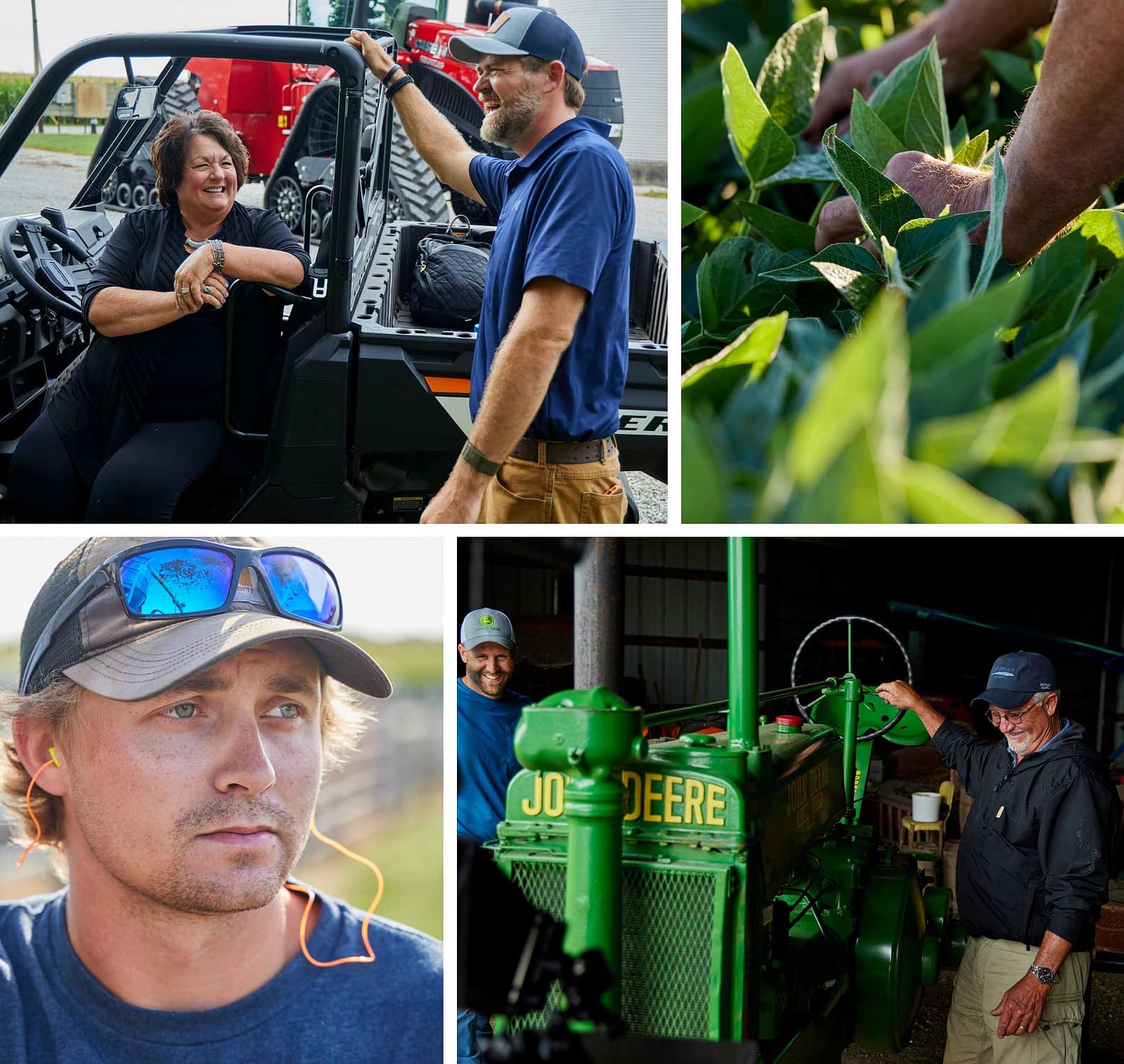 More American Farm Stories
The men and women who operate farms across this great country have great stories to tell. Of hard work. Challenging conditions. Overcoming obstacles. Family members working together. Over many generations. And hopeful for the future. Take the time to hear their voices.