Biostimulant
ADM CS43 Biostimulant
ADM CS43 is a next-generation crop input that improves corn yields by boosting the natural power of beneficial soil microbes. By stimulating microbial activity, ADM CS43 increases nutrient use efficiency, enhances plant vigor, and boosts yields.
Learn more about the fertilizer portal and create an account.
Benefits
Improves fertilizer ROI: Provides a needed energy source to soil microbes, boosting their activity to promote nutrient availability.
Boosts yields: Multiple years of university research demonstrates ADM CS43 can increase corn yields 7 bushels/acre* when used with starter fertilizer.
Easy to use: Offers proven compatibility and synergy with 10-34-0 starter fertilizer and available as a ready-mixed solution for in-furrow application.
*University of Illinois trials. Individual results may vary.
Trials
Multiple years of University of Illinois trials demonstrate consistent yield benefits.
Proven to improve crop yield and plant vigor when applied in furrow with common starter fertilizers.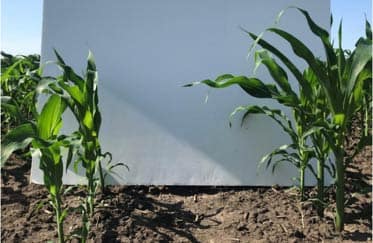 Comparison of untreated (left) versus ADM CS43 + starter-treated corn. University of Illinois trials.
Characteristics
Proprietary sugar-based biostimulant
Stimulates the root zone by feeding soil microbes
Stimulated soil microbes improve the availability of fertilizer nutrients for the growing plant
10-34-0 vs 10-34-0 + ADM CS43
When included with liquid starter fertilizer, ADM CS43 boosts beneficial soil microbe activity to improve nutrient availability and efficiency.
Application
ADM CS43 is available in 275-gallon totes
Application rate: 0.75 – 1.00 gallon/acre
Straight addition to liquid starter fertilizers
No additional mixing requirements